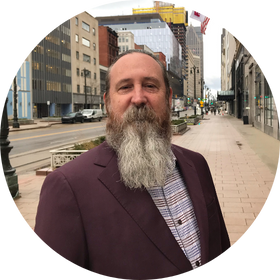 Get to know Global Detroit's New Communications Director, Matt Fry!
Global Detroit Communications and Development Manager Sofia Kuczer recently sat down with new Communications Director Matt Fry to chat about work, life, vintage stereo equipment, and their mutual love of Detroit and antiques. With a background in brand advertising and executive nonprofit leadership, Matt has applied his skills to the fine arts field by working as a marketing director for world-class museums like the Detroit Institute of Arts and the Walters Art Museum in Baltimore. Most recently, he led the 90-year-old Detroit Artists Market gallery through two strategic plans, pioneered an annual art auction fundraiser, and safely guided the organization through the pandemic. Read on to learn more about Matt and his diverse experiences and interests. The Global Detroit team is thrilled to have him on board!
***********
Before accepting this position at Global Detroit, you were the executive director at the Detroit Artists Market (DAM), and prior to that worked as the Marketing Director at the DIA. What led to your decision to pivot from the fine arts world to Global Detroit?
Regardless of what I've done in my life, I've always wanted to positively contribute to the world in any way I can. In the arts, I knew the work always had great benefit to community and culture overall. I saw that Global Detroit was doing amazing things for the economy, local communities, and culture, which attracted me to it immediately. I believe it's a great area to complement my skill set and experience, and the diversity of the organization and the people it serves appeals to me greatly.
Your work reached a wide audience in the mid-aughts with the DIA's memorable "Let Yourself Go" campaign after the museum's historic renovation. What are some of the biggest lessons you learned during this time?
Through my experience at the DIA, I really learned the value of detaching myself from the "core aspects" of Art and Art History and learned to approach it from other perspectives. I figured out effective ways of taking complex thoughts and repositioning them for consumption, entertainment, and education for the general public, as embodied by the "Let Yourself Go" commercials and overall campaign. I think it's important to make art accessible to more people and act as a translator of some lofty and complex concepts without dumbing down the subject matter. Overall, working with a great team—staff, ad agency colleagues, musicians, animators, media outlets—to promote such a significant moment in the DIA's history was just a special moment in my life. Bringing a newly reinterpreted museum to life with a fun, fresh marketing campaign was only surpassed by the droves of people who actually responded by showing up!
How do you think your background working in the arts/Detroit art scene will influence and help your work as Communications Director at Global Detroit?
I hope to bring creativity and humanity to Global Detroit's promotional work and communications. I gravitate toward creative approaches that may not have been tried, and I'm also a believer in bringing focus to the humanity behind and surrounding the organization. Not surprisingly, I enjoy bringing human interest stories to the forefront, because they so naturally get to the heart of an organization's purpose. At the Detroit Artists Market, I used a lot of artist testimonials to embody the mission of a great 90-year-old community gallery, and I think the same approach can serve Global Detroit. There are so many possibilities.
What do you find most interesting/exciting about Global Detroit's work?
I find Global Detroit's work interesting and exciting because it's based on inclusion, has a tangible economic driving mechanism, and is helping to rebuild the population in Michigan. These are three huge ideas that are relevant and critical notions of our time, some of which are misunderstood. Global Detroit's work clarifies through facts the common misconceptions in these arenas.
Which artist's work currently inspires you?
From my work at the DAM, I'm mostly familiar with local artists, and I think Rashaun Rucker is one of the most intriguing and thought-provoking artists currently out there. He's an award-winning news photographer and illustrator who has created a great body of work. His series "American Ornithology" explores society's treatment of Black men, using poignant, powerful, and clever metaphors. Beyond his impressive abilities, Rucker is just a great guy to work with, and he often stops into local galleries, including the DAM. His work is great, and I would highly recommend anyone interested in contemporary art to check it out.
Learn more about Rashaun Rucker and his work here.

What is your favorite thing about Detroit?
Oh man I love Detroit! I feel lucky to live here. I love the city's architecture, particularly the work of Kahn, Yamasaki, Rowland, Cret and others who shaped the city's layout and look. I moved to Detroit in the 1990s and took to it right away, finding an approachability and hard-working nature among the people. As someone who grew up in a very multicultural environment, I appreciate the diversity of Detroit and wish more people had the chance to experience such a dynamic.
What do you think the biggest misconception is about Detroit?
For years the crime portrayed in the media have helped create a negative connotation of Detroit. Every metropolitan area has its issues, but I think this misconception of Detroit still lingers a bit. I've just never felt anything other than love for this city. In my experience, people who visit and experience the city firsthand end up having a wonderful time and come away with a positive impression.
What do you think Detroit/Southeast Michigan does well to incorporate immigrants into its economy and economic growth? Where are the biggest areas of improvement?
Detroit's industry and tech sectors require workers with STEM skills, so that really opens up opportunities for many. In my short time at Global Detroit, I feel like I learn about a new inclusivity avenue every day, and it's great! Lots of opportunities right now in Detroit – the future looks bright!
What are you most looking forward to in your role as the Communications Director for Global Detroit?
Global Detroit is clearly experiencing a huge stage of growth and we are really hitting our stride. I'm excited to help enhance the way we articulate our value in the community. Steve [Tobocman] has done an amazing job steering the ship from the start and taking Global Detroit to the next level, and I'm happy to be part of the expanding team, including working closely with [our new managing director] Dr. Alaina Jackson. The next big steps are the state and national expansions of our talent work, and I'm looking forward to it all. I'm also thrilled to work with the friendly, passionate, and talented people at the organization. I have really enjoyed it so far!
What are some of your favorite hobbies?
One of my biggest passions is collecting, repairing, and certainly driving/riding vintage cars and motor scooters. I also have a collection of vintage 1980s boomboxes, including one of the rarest ones in the world, the Marantz/Unix CRS-6300 (just TRY and find one). As far as the day-to-day stuff, I love to go on walks with my girlfriend Erin and dog Cora and explore Detroit. I'm a big fan of movies, particularly Golden Age films and movies from the '70s. My mom, a retired library director, introduced me to the classics, and my mom and dad took me to nearly every mainstream movie that came out during my formative years.
Can you give us a book recommendation (or two)?
Lost Horizon by Thomas Hilton
For Keeps by Pauline Kael
Read more about Matt at the Global Detroit team bio page here.