New (July 2022) research from the National Foundation for American Policy chronicles the enormous contributions that immigrant founders have made to America's startup community. In fact, 55% of America's most valuable startups (319 of the 582)—companies valued at over $1 billion—have an immigrant founder. What's even more remarkable about the prevalence of immigrant founders with the American startup ecosystem is the absence of a startup visa or robust immigration path for highly skilled individuals to launch their companies in America, something that 25 other nations, including Canada, the UK, Australia, Germany and Sweden possess.
To facilitate the attraction, retention and growth of high-growth startups launched by immigrant founders, a growing number of communities are launching Global Entrepreneurs in Residence (Global EIR) programs that connect promising innovators with part-time university employment that leverages their skills mentoring and teaching students, facilitating the growth of university venture centers, engaging in research and/or partnering their companies with students for interns and research. Over the past decade roughly a dozen universities have launched some version of a Global EIR program and collectively these programs have enabled the launch of more than 100 startup companies that have raised over $1.5 billion in venture-backed capital investment and created over 2,500 U.S. jobs.
Global Detroit's Global EIR program has helped place founders at the University of Michigan, Wayne State University and the College for Creative Studies who in three short years helped launch seven companies that have raised over $15 million in venture capital and created 50 jobs. Starting this past summer, with generous support from the Ewing Marion Kauffman Foundation, Global Detroit has been building a new National Peer Network of local Global EIR programs, supporters and enthusiasts. Over 30 individuals from more than 20 organizations have participated in a series of zoom calls and webinars.
In September 2022, eight Global EIR programs or communities looking to build Global EIR programs gathered in Boston for the first in-person National Peer Network convening of Global EIR programs. The gathering included representatives of:
Babson University

Cincinnati Compass

Federal City Council

Global Cleveland

Global Detroit

Grand Rapids Chambers of Commerce

Michigan Technological University

University of Massachusetts-Boston, Venture Development Center
These local programs were joined by attorney Craig Montuori, the Co-Founder and former Executive Director of Global EIR, Tahmina Watson of Watson Immigration and author of The Startup Visa and Legal Heroes in the Trump Era, and a dynamic panel of Global EIR alumni from the UMass Boston Venture Development Center program.
The Boston Global EIR National Peer Networking convening focused on the work of local Global EIR programs, including the details involved in securing university participation, recruiting and vetting potential founders, raising funding for the programs, supporting founders through their journey, including their successful exit from Global EIR programs, engaging alumni, as well as tracking and evaluating outcomes. We spent hours discussing how a National Peer Network could help local programs proliferate and help provide support in navigating these challenges.
The Convening also included a panel discussion from six Global EIR alumni from the UMass Boston Venture Development Center who collectively have raised more than $60 million and employ more than 100 FTEs. These alumni each testified to the importance of the Global EIR program to their own startup journey and their desire to give back to current and future Global EIR founders to support their own startup journeys, as well as to volunteer to support the growth and development of local Global EIR programs and a National Peer Network. AirWorks founder David Morczinek, an aerospace engineer who came to the Massachusetts Institute for Technology (MIT) from Germany for his masters in business administration, highlighted the importance of a pathway for international founders, noting that if talented international students at America's top research universities weren't launching companies to solve the world's problems then who would tackle such opportunities. David and the other founders discussed the role their companies were playing in helping to advance large clinical trials for COVID vaccines, use of AI to solve congestion and provide for sustainable development, and otherwise make important contributions to our society.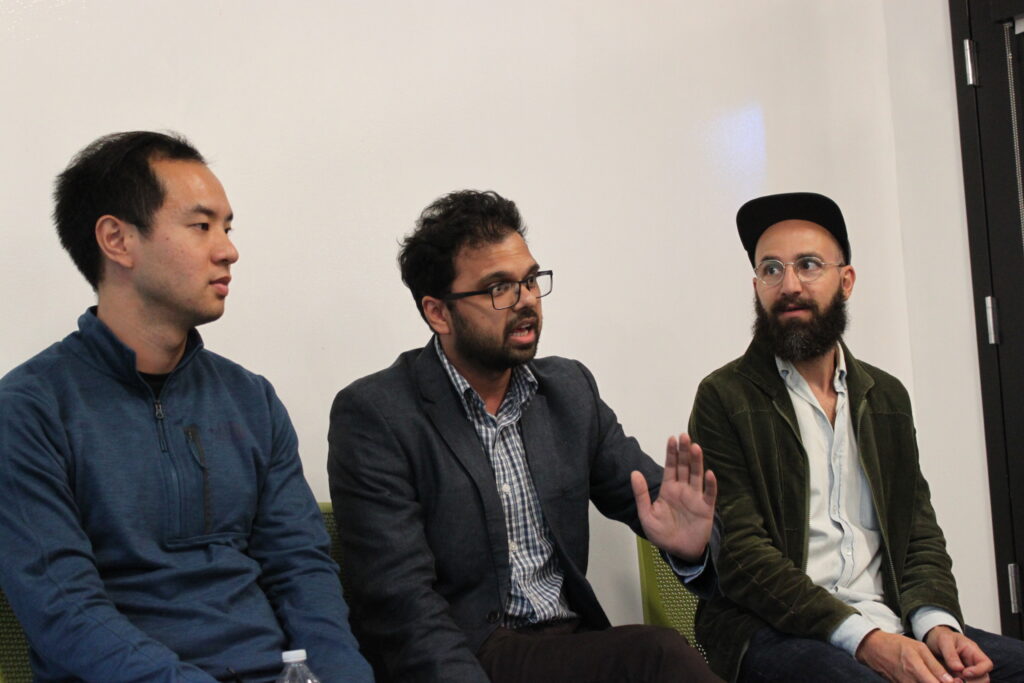 "Given the predominant and critical role that immigrant startup founders have played in and will play in America's innovation economy, communities with a Global EIR option possess a tremendous competitive advantage at attracting and retaining some of the world's most important startups," notes Global Detroit Executive Director Steve Tobocman. "Until we see more fundamental changes in U.S. immigration law, the Global EIR provides a critical solution for immigrant founded startups—literally half of the U.S. startup economy. We are building a National Peer Network of these programs because it is a critical, often unheralded, tool for securing America's economic future."
The Boston convening enabled these groups to discuss their individual successes, challenges and opportunities around the Global EIR program and to plan how a National Peer Network can help each organization. Groups felt a deeper connection and inspiration to pursue the work. Many of the groups will gather in late October in Washington, D.C. to meet with national policy, research and advocacy organizations, congressional staff and member of the Biden administration about how local Global EIR efforts can support and promote a federal startup visa or other strategies that broaden opportunities for immigrant startup founders to launch their companies in the U.S.