Lupita's Ideal Beauty Salon
Bertha Jimenez had always dreamed of owning a salon. Her opportunity came three years ago, when she purchased Ideal Beauty Salon, a 50-year-old Southwest Detroit institution. With plenty of experience–she runs Chilango's Bakery with her husband–she set to work securing her own clientele, adding new services, like massage, and updating the interior design with help from woodworker and mason José Torres from Masonry Detroit. She kept the original name of the shop, with a slight update: Lupita's Ideal Beauty Lounge, paying homage to the previous owner. Then, a year into building her new business, COVID hit. Bertha had to close her doors for several months during the state-mandated stay at home order. She was afraid she would be shut down for good.
Because her stylists are independent contractors and not employees–an arrangement common in the salon business–Lupita's did not initially qualify for funding from the federal Paycheck Protection Program (PPP) or many other local grants for small businesses. When the PPP rules changed in early 2021, Bertha assumed she still didn't qualify. Luckily, Bridget Espinosa told her otherwise. Bridget is the owner of Puente Cultural Integration, a small business services firm that provides bilingual support to Latinx/Hispanic-owned businesses. Global Detroit recognized early in the crisis what the data is now showing: that immigrant business owners and businesses of color are receiving PPP funding at a far lower rate than white-owned businesses. So we partnered with Puente to inform businesses in Southwest Detroit about the new rules and help them apply. Twelve businesses have received $185,000 and counting.
When PPP was first launched, it was widely publicized that large companies, like Shake Shack and AutoNation, received funds, even though the program was designed for small businesses. This made business owners like Bertha wary. "We didn't trust that we would get money," Bertha explains. "We saw bigger companies getting it and asked ourselves why small businesses didn't get it." By the time she learned she qualified, her accountant was overbooked. Smaller businesses, especially immigrant-owned and businesses of color, have also struggled to get funding through mainstream financial institutions.
Bridget connected Bertha with the Opportunity Resource Fund, a Detroit-based community development financial institution with a mission "to support Michigan communities by lending where others cannot or will not," and guided her through the application process. Bertha received her first round of funds this past March, and used it to pay water, gas, Internet and other bills. "The bills didn't stop," she observes. "Getting PPP funds was a big relief."
Customers are now slowly returning to Lupita's and Bertha is planning new services, like manicures and pedicures, to draw people in. She just submitted her application for a "second draw" of PPP funds, with Bridget's assistance. Keeping the business open is critical to maintaining and growing a loyal clientele, she says.
Bertha says the relationship she has built up with Bridget over the years was key to her decision to apply for the funding that has made such a difference for her business. "When Bridget comes to us, we trust her," Bertha says. "We know she cares about us. That's love for the community.
It's the entire community that benefits when neighborhood businesses receive funds, Bridget points out. "It's a $100,000 investment–or more–of money that stays in this neighborhood," she says. "Everyone lives in this neighborhood, works in this neighborhood, owns their businesses in this neighborhood. They're paying their rent, they're paying their taxes, they're paying their utilities, they're beautifying their spaces, they're keeping people employed because their doors are still open. That's a huge impact."
Lotus Essences, ArteSano & Masonry Detroit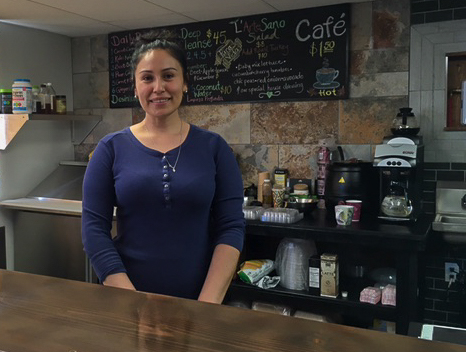 In March 2020, Mayra Torres had just finished her final inspection and was preparing to open the doors to her new juice bar, ArteSano Juice Bar & Café. But COVID and the state stay at home order put those plans on hold. To make matters worse, Mayra also had to reduce the hours at her adjoining clothing boutique, Lotus Essences, to appointment-only. And work came to a halt for her husband Jose, a carpentry and masonry contractor, too. Jose had declined several paying jobs prior to the shut down as he finished the interior of the juice bar. He and Mayra had anticipated that the new revenue would offset the loss.
As a new business, ArteSano doesn't qualify for PPP funds, and Lotus Essences did not initially qualify because Mayra is the sole employee. Contractors were initially excluded from the funding, too. Small grants from Wayne County and TechTown for Mayra's businesses helped, but spring 2020 was incredibly stressful. Jose and Mayra focused on home schooling three of their four children, plus a nephew, until the stay at home order was lifted and Jose's contracting work picked back up. 
Bridget knew what Mayra and Jose were going through, and they were the first people she called when the PPP rules changed in early 2021. Lotus Essences would now qualify for funds, Bridget explained. Not only that, but contractors were now eligible, so Jose could apply as well. Immigrants are often excluded from federal loan programs, and Mayra didn't expect PPP to be any different. "We had no idea we qualified for PPP, especially as immigrants," she says.
Nationwide, immigrant-owned businesses and businesses of color have faced numerous, well-documented barriers throughout the PPP process. The situation is no different in Detroit. Immigrant business owners often found that larger banks could not accommodate them: they had long queues, didn't offer personalized support and provided instructions only in English. Some banks' application forms still excluded some eligible businesses even after the rules changed.
Bridget helped Mayra connect with the Huntington Bank branch in Southwest Detroit and Jose with Alliance Catholic Credit Union. Both institutions offered hands-on support from loan officers who know the neighborhood. Mayra and Jose both received PPP funds this past spring and applied them to a range of expenses, including taxes, insurance and utility bills. Earlier this month, they were both approved  for their "second draw" loans through the Opportunity Resource Fund, a community development financial institution with a mission to loan "where others cannot or will not." 
Today, a steady stream of customers comes into ArteSano for fresh juice and sandwiches. As the weather warms up, they'll be able to sit under the hand-crafted pergola that Jose built over the patio. Mayra plans to rent the space for birthday parties and other private events. When asked what the funding has meant to her, Mayra's actions say it all. "I'm glad," she says simply, then envelops Bridget in a huge hug (they're both vaccinated!). Even behind a mask, her giant smile is evident.