In Senegal, Mariama Keita designed and sewed clothing for a living–a career she had studied for in school. So when she had an opportunity to join Global Detroit's Common Bond program, which brings immigrant and non-immigrant women together around textile arts, she not only jumped at the opportunity, she began leading the workshops.
Common Bond began in 2019. We knew from our work in Banglatown that many immigrant women in Detroit were feeling isolated and needed opportunities to become economically self-sufficient. Gracie Xavier, who leads Global Detroit's creative programming, secured a grant from the Doris Duke Foundation to begin gathering women around textile arts as a springboard for learning about their aspirations, and helping them develop new skills and pursue employment or cottage business opportunities. The program started in Banglatown, and has expanded to Brightmoor, which has a sizable West African population, in partnership with the African Bureau of Immigrant and Social Affairs (ABISA). Founded by Executive Director Seydi Sarr, ABISA assists African and Black immigrants in metro Detroit in accessing socio-economic resources, understanding their rights in America, and becoming more civically engaged. With the onset of the pandemic, we also began offering a citywide class online.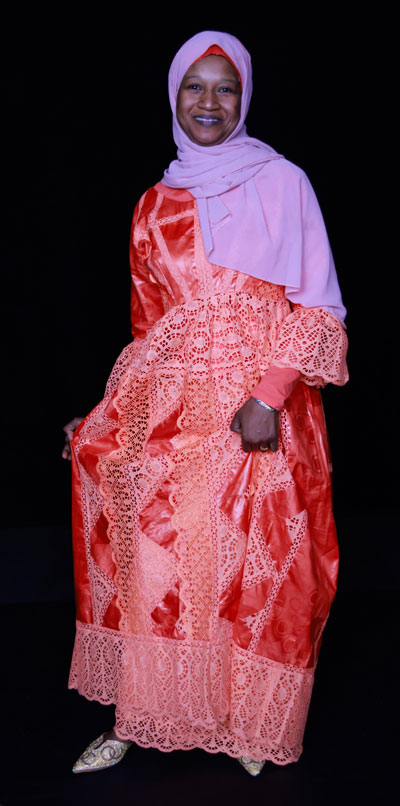 Mariama K. has been sewing and selling traditional African dresses for some time, but since joining Common Bond, she has begun taking on new clients from other communities. This gives her a chance to practice her new sewing skills–and her English language skills. When we conducted this interview, Mariama K. had just taken a placement test to begin an ESL class offered through the Detroit Public Schools in partnership with Common Bond–the first all-women course offered by the district. She began the class, but was unable to complete it due to travel. To date, nine women from the Common Bond program have taken ESL courses through our partnerships with DPS and the University of Michigan.
Mariama K. homeschools her children, and she plans to use the skills and connections she made through Common Bond to expand her home-based business, giving her more economic freedom.
Mariama Njie, who is from Gambia, had never touched a sewing machine before she joined Common Bond. This makes it all the more breathtaking when she holds up a long, black dress (Maam Boye) with intricate yellow embroidery on the flounced sleeves and bodice. Mariama K. taught her how to sew it, but Mariama N. did all the work herself.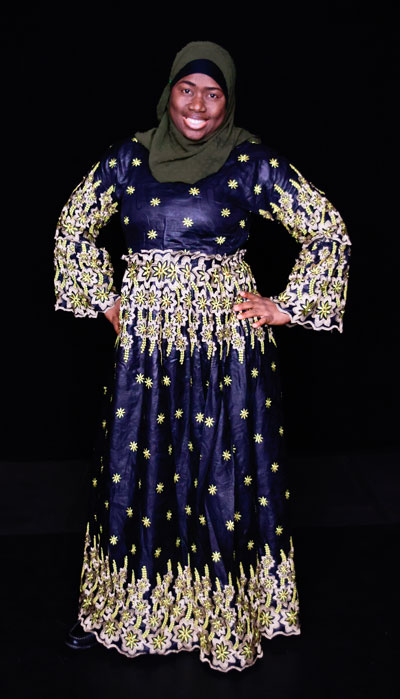 "I have so much confidence now,"  says Mariama N. (she and Mariama K. both spoke through an interpreter). "I was even scared to touch the machine but now I can do it. If someone gives me a dress right now, if it has a problem, I can fix it."
Another goal of Common Bond is to build bridges across cultures and religions. Mariama N. says the program has definitely done that. "I have a connection with people, we are not the same religion," she says. "When we are at the same place, it's just like we are family. We can work together, we can do things together. And that helps us in our environment, because you know something, and someone else doesn't know it. So you teach each other."
Mariama K. relished the opportunity to connect with new people. "I'm a stay at home mom, I don't go anywhere, I'm at home," she says. "With the teaching, I got to see people come and go. They are very nice, they are easy, we get to have fun and connect. The teaching has brought this to me. I get to now connect to others who are different, and have fun and learn new things."
Mariama K. became so enamored of the learning process that once the workshop transitioned to screenprinting, she continued to attend–as a student.
Common Bond has given the women opportunities to grow, personally and professionally. "Once you are in connection with other folks, you learn things about yourself that you didn't know," says Mariama K. For example, being patient. "Teaching isn't easy, you have to be patient to teach people, have them hear what you are saying and have the time to accompany them to learn something."
"It also gives me pride to teach something to other people and they were able to excel in it," Mariama K. continues. "I have pride knowing that I had a part in teaching something to somebody. I have the skills, I know my skills, I love my skills, but now I taught it to somebody who is not excelling. That makes me feel good about myself."
"So when you see Mariama Njie's dress, you feel proud, yes?" I ask Mariama K. in English.
"Yes," she responds immediately.
A very special thank you to ABISA's executive director, Seydi Sarr, who provided Wolof interpretation for these interviews, which were conducted by Global Detroit's Kristin Palm.
Thank you, also, to our Common Bond funders: The Doris Duke Charitable Foundation, the Immigrant and Refugee Funders Collaborative of the Community Foundation for Southeast Michigan, the Michigan Council for Arts and Culture, and the Ralph C. Wilson, Jr. Foundation.